Retinal Degenerative Diseases
Retinal Degenerative Diseases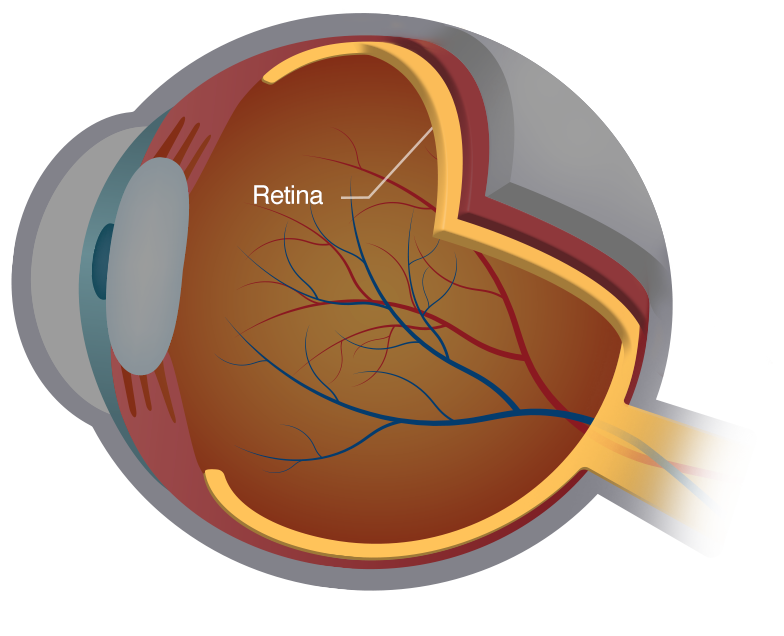 Retinal disorders come in different forms, from tears and holes in the retina to conditions that involve the breakdown of cells in the retina. Whatever the case may be, the Retina Associates team can help. We've helped restore and manage the vision of countless people in the Lenexa, KS area suffering from different retinal disorders.
Proper diagnosis and treatment for retinal conditions is key for successful treatment. With that in mind, we'd like to look at two degenerative conditions that affect the retinas: age-related macular degeneration (AMD) and retinitis pigmentosa (RP).
Age-Related Macular Degeneration (AMD)
Age-related macular degeneration (also known as AMD and ARMD) is a condition in which the central portion of the retina known as the macula breaks down. This leads to gradual vision loss over time. AMD typically develops around age 50 and becomes progressively worse with time.
According to numbers from the National Eye Institute [NEI], 2.07 million people age 50 and older had late stage AMD as of 2010. This number is expected to be higher today given the increased numbers in the elderly population. In fact, a 2009 study cited by the National Center for Biotechnology Information [NCBI] noted that more than 9 million Americans suffered from early stage AMD.
Age-Related Macular Degeneration (AMD) Treatments
There are two kinds of AMD, dry AMD (which comprises 90 percent of all cases) and wet AMD. The ideal treatment at our Shawnee Mission practice will depend on the type of AMD you have.
Treating Dry AMD - When managing dry AMD, the best option typically involves lifestyle modifications and the use of select vitamin supplements. There is no known cure for the condition, though working with a low vision specialist can help you adapt to these changes in your eyesight
Treating Wet AMD - Treatments for wet AMD are designed to slow down the rate of vision loss. Certain medications may be taken to help slow down the development of new blood vessels. Photodynamic therapy and photocoagulation may also be recommended to address retinal damage.
Retinitis Pigmentosa (RP)
Also known as red cone dystrophy, retinitis pigmentosa (RP) is a group of rare genetic disorders that cause the breakdown of cells in people's retinas. The condition alters the way that the retina responds to light as well, causing initial vision issues in addition to the gradual loss of vision over time. According to estimates from the NEI, roughly 1 in every 4,000 people suffers from RP.
Common signs and symptoms of RP include:
Loss of night vision
Loss of peripheral vision
Loss of central vision
Problems perceiving color
Retinitis Pigmentosa (RP) Treatments
As of now, there is no single treatment for RP, though researchers are looking for ways to slow down the rate of vision loss. The use of vitamin A palmitate supplements and select medications can help slow down the rate and degree of vision loss in patients, however.
As with AMD, patients will RP can work with low-vision specialists in order to make the most of their current vision and adjust to further vision impairment in the future.
Learn More About Retinal Disease Treatments
If you live in or near Shawnee Mission and would like more information about treating retinal diseases and degenerative eye disorders, be sure to contact our team of vision care and retinal condition specialists. The team at Retina Associates is here to help. You can reach us by phone at (913) 831-7400.