When Is it Time to See a Diabetic Eye Specialist?
When Is it Time to See a Diabetic Eye Specialist?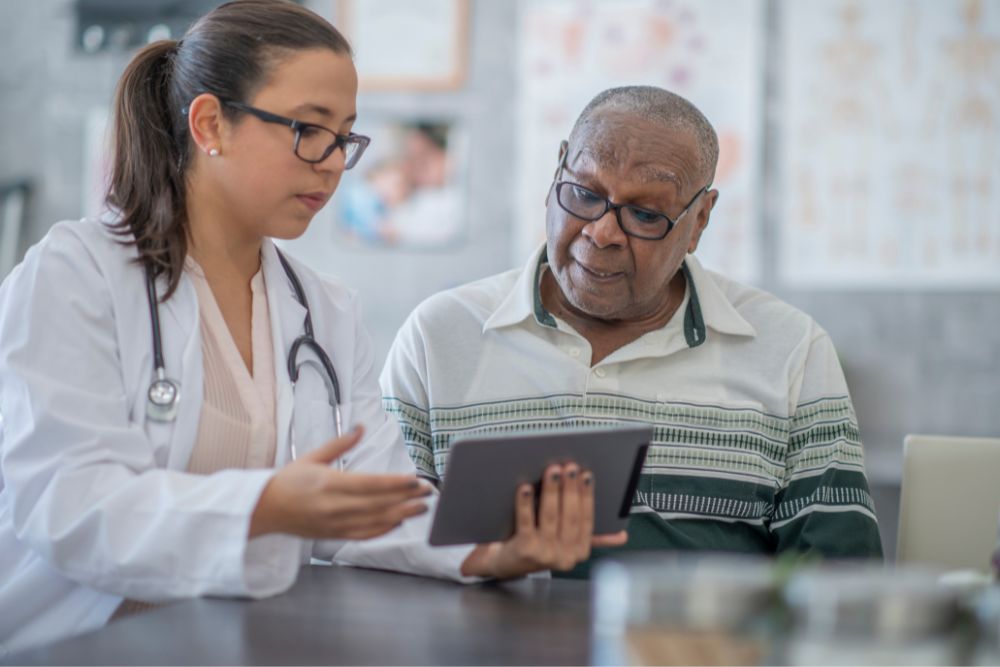 About 15.9 million Americans 65 years or older are now living with diabetes, which is especially harmful to your eyes and vision. Having or being at risk for diabetes may result in the development of related conditions, such as diabetic retinopathy, considered the nation's leading cause of adult blindness. And while people with diabetes should properly manage their health, it's crucial that you see a diabetic eye specialist before your diabetic retinopathy worsens. Early detection and regular ophthalmologic exams may slow or prevent vision loss and prevent future disease progression.
How Does Diabetic Retinopathy Affect Your Vision?
With diabetic retinopathy, diabetes causes your blood sugar (glucose) to increase. Gradually, the walls of the retina's blood vessels weaken, leaking fluid and blood into the retina. Early on, you may have no symptoms. But proliferative diabetic retinopathy (PDR), the more advanced form, is a major health concern.
With PDR, new, abnormal, delicate blood vessels grow in the retina and the vitreous gel, the clear, jelly-like substance filling most of the eye. You may notice floaters, hazy vision, and problems with night vision and Iighting changes. Without immediate treatment, PDR can lead to serious complications, including permanent blindness or the loss of an eye. In addition, you may be at risk for:
Glaucoma, the second leading cause of blindness, involves interference with the flow of aqueous humor, the eye's internal fluid, raising pressure inside the eye. You may experience eye redness, severe pain, permanent and irreversible vision loss, and optic nerve damage.
Retinal tears and detachment may occur, as the new blood vessels' bleeding results in scar tissue formation. The eye tissue then pulls back, moving your retina out of position.
Vitreous hemorrhages can develop, causing floaters and vision blockages; however, this may disappear as the blood clears.
Early Screening Vital for Diabetic Retinopathy
Diabetic retinopathy can occur with type 1 or 2 diabetes or gestational diabetes (with pregnancy). The longer you've had diabetes, the greater your chances of developing diabetic retinopathy. So, it's essential to have a comprehensive dilated eye examination at least once a year. If caught early, diabetic retinopathy is much easier to manage, and treatment can begin sooner.
The doctor will inspect your eyes for abnormal blood vessels, bleeding, leakage, swelling, and retinal detachments. You should mention any visual changes, including sudden changes or blurry, spotty, or hazy vision. But if dark, floating spots or cobweb-like streaks appear, immediate medical treatment is needed.
Other Diabetes-Related Vision Conditions
Diabetes may contribute to other related eye conditions, but regular ophthalmologic exams and early diagnosis can help slow vision loss and preserve your eyesight.
Diabetic macular edema (DME) typically develops with diabetic retinopathy. DME occurs when tiny bulges (microaneurysms) grow on retinal vessel walls, leaking fluid or blood in the macula, the retina's center. This can cause swelling and problems with central vision. DME can result in blindness and permanently damage retinal nerve cells.
Cataracts develop with aging, as your eyes' lenses become thicker, less flexible, and less transparent. But high glucose levels due to diabetes can result in structural changes in the lenses, speeding up cataract development.
Schedule a Consultation With a Diabetic Eye Specialist in Kansas
Having or being at risk for diabetes can impact your vision health. You should visit a diabetic eye specialist at the earliest opportunity, to prevent your condition from worsening. For any questions, we invite you to contact us for an appointment.